Attendance Report: GAPPS (Global Alliance for Project Performance Standers) TFL 35 (Thought Leadership Forum 35)
Reported by Susumu Miura
Director / General Manager for Globalization PMAJ
PMAJ has dispatched 2 key members to GAPPS TFL 35 which has been held at SKEMA Business School in Lille, France from 4th to 6th June 2016.
The participants from PMAJ were Dr. Tomoichi Sato (JGC Corporation) and Susumu Miura (PMAJ). PMAJ is a member of GAPPS, and participated and hosted for WS 13(Workshop) in 2008 and WS 31 in 2014 in Tokyo.

The initiative of GAPPS was initiated in the summer of 2000 in London after the Conference of IPMA #15 leaded by Professor Lynn Crawford with about 40 volunteers in order to embody Global Performance Based Standers for Project Management Personnel for project management, and formerly that have been working together since 2003 to help practitioners and organizations make sense of the many standards and certifications available globally to guide the management of projects. Membership of the GAPPS is open to any organization that wants to contribute to and benefit from enhanced understanding of resources available for the development and assessment of competence in all aspects of the management and leadership of projects.

GAPPS Website

Brief of GAPPS TLF 35

12 persons have participated for this TEL35 from 8 countries.
The forum has been discussed and exchanged information about followings.
| | |
| --- | --- |
| 1. | Confirmation of current status |
| 2. | Report from participants for new trend and/or information her/his organization etc. |
| 3. | New strategy of GAPPS from now on (including next TLF) |
| 4. | Remaining mapping work on P2M Program Management |
The detail of the discussion on the new strategy of GAPPS such as value of TLF and the approach/themes will be formally announced later on website.
For Mapping, starting from WS31 in Tokyo, finalized the mapping of P2M to the GAPPS Program Management Standard. It still need to complete the overs compare with GAPPS Standards, and will be requested GAPPS Board Approval after final approval of PMAJ, and the updated GAPPS Mapping will be uploaded to the GAPPS website for download, within 8-10 weeks.
(For reference: Mapping, Comparison of project and program management standards)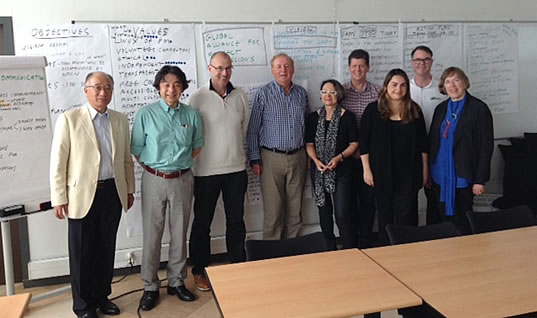 Thought for TLF 35

The followings are brief thought participating this TLF35.
| | |
| --- | --- |
| 1) | Finalizing of Mapping Approach for P2M Program Management, and becoming ready to update the GAPPS website will be strong support for global recognition and understanding for P2M. PMAJ needs to study more about our standards referring the results of these activities for next edition. |
| 2) | Activities of GAPPS including this TLF, this is not a large-scale, but it has a large influence on global gathering sages of the world's PM for steady development of PM, Project Manager capability building, and continue to work for the Project of success. This is a great initiative. |
| 3) | These are volunteer-based activities. And it does not feel the PM business. This is a population that supports hope truly performance improvement of project professions. |
| 4) | It is intended to basically coincide with the spirit of PMAJ, so we should go kept continuously related to GAPPS. |
= END =