Welcome to the Project Management Association of Japan Home Page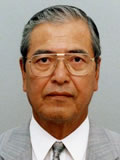 Chairman, Kiyomitsu Nishio



Thank you very much for your access on PMAJ home page.
The Project Management Association of Japan (PMAJ), under the circumstances rapidly changing environment globally, put our mission to educate and to train project management practitioners, who have the capabilities to meet the requirements of today's global and rapidly changing environment, with a high outlook and broad vision, and to introduce "Program and Project Management for Enterprise Innovation (P2M)" in Japan and to the world, and contribute to improving and advancing program and project management through educational activities and popularization of P2M.
In the globalized and complicated modern society, products and services needed by customers and the society change rapidly. It becomes essential to promote innovation aiming overall optimization such as integration of ECO system for building construction and/or integration of IT in production to improve the productivity. In addition, mergers and acquisitions (M&A) is actively promoting for manufacturing, IT and financial enterprises, and filing the news like a daily. In particular, the cases Japanese companies acquire foreign companies have been increasing. In order to increase the growth and profitability the company are to increase tangible fixed assets, however to lead this growth successfully the talent is required, so the collective investment include intangible assets such as human resources, organization, brand is said to be M&A. For these issues, it is required for companies to find value that customers want in society to another at first and to make up "mechanism" for providing its value ahead of others. The key words for fit for ages are "value creation" and "innovation"

P2M provides systematically the core knowledge to solve complicated modern issues, such as value creation and innovation, dividing the knowledge by new concepts in program management (compared with Western program management) and by project management that is the process to attain the sound implementation of project, and other related necessary knowledge.

Fields where P2M can be used are social infrastructure, resources and energy development, manufacturing facility, product development, total engineering and construction, and ICT, etc., so it has a wide variety. Furthermore, it has become a major feature that P2M can be widely applicable not only for business fields but also for the fields of society such as system for administrative, education, health care, and local community.

The structure of Third Edition P2M is as shown in following "P2M Tree"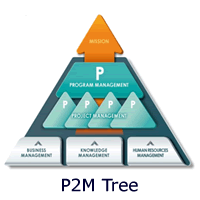 Contents
【P2M Main Subjects】
Part 1 Overview and Features
Part 2 Program Management
Part 3 Project Management

【P2M Common Knowledge Platforms】
Part 4 Business Management
Part 5 Knowledge Management
Part 6 Human Resources Management

P2M was firstly published in 2001. The revised edition of P2M was issued in 2007, and the third edition was published in April 2014. The translation in English of third edition is completed and now under reviewing but the previous versions of P2M can be downloaded in this Web site.

I do hope that colleagues of project management will become familiar with P2M and contribute for the development of your business and country.

Thank you very much.